Company Overview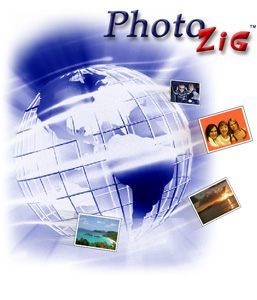 Photozig's mission is to provide the best customer experience to save, organize, and share lifetime memories. Photozig develops easy-to-use tools, practical solutions, and time-saving features to facilitate the management, enhancement, and sharing of digital pictures and video.
The company was founded by Bruno Kajiyama in March 2002, and received US federal funding to research and develop new applications of digital photography.
As an industry partner of the NASA Research Park, Photozig is located in the research and education campus at the NASA Research Park since 2002, enabling fruitful exchange with universities and research groups. Photozig also collaborates with centers of excellence such as Stanford University, UC Davis, UCSF, UCLA, and University of Illinois at Chicago.
Your Life in Pictures™
At Photozig, Inc., we strive to lead in the creation of reliable and easy-to-use solutions to take care of your lifetime memories.
Photozig vision is to empower professionals and consumers through great products. Our unique user interface and product features translate this new way of showing pictures into joy and rich experience for our customers.
Management Team

Bruno Kajiyama
Founder, President and CEO
Kajiyama brings 20+ years of experience with digital electronic technology and special applications, heading the direction of several hi-tech products at companies such as Philips Electronics and Mips Technologies. He has also been the Principal Investigator of R&D projects, enabling innovative application of digital photography in health care and special education. Prior Photozig, Kajiyama had four years of experience with microprocessor technology and applications, at Mips Technologies and picoTurbo, Inc. as Product Line Manager and Vice President respectively, overseeing microprocessors for digital cameras, digital consumer, networking, wireless, portable and other devices. He also worked for Philips Electronics for ten years, holding several senior management and engineering roles in Europe and US. Kajiyama holds a B.S. in Electronic Engineering from the Aeronautics Institute of Technology and a M.S. in Electronic Engineering from the Netherlands Universities Foundation. Read more about Bruno Kajiyama and Photozig in a publication of the NASA Research Park.
What is Photozig?

"Photozig" is a combination of the words "Photo" and "zig" (to turn or change direction suddenly), creating "photos in motion". This vision has evolved and became a reality with the PepBlast movie creator.
Our goal is to make your life easier: "just photo zig it".
"Your Life in Pictures" is a trademark of Photozig, Inc.